The Brother LB6800PRW is a computerized sewing machine that according to reviews, blogs, and personal references outpaces every embroidery machine combo. This product is a mid-range sewing machine that costs between $300 & $400. While being affordable, this model also comes attached with a wide array of features that have been created to enhance your sewing experience in whatever project you have for yourself.
Brother LB6800PRW – Features
Bobbin System
The bobbin system is pretty great as it comes with a jam-resistant mechanism which makes you only need to move the bobbin once the thread is put into place. After that, you can then press start and watch the machine run itself.
Advanced Needle Threader
The advanced needle threader can be found on the machine. It's very simple to use, and only needs a bit of attention when using it.
Stitches and Design
The machine has 67 stitches, which has everything you want from utility stitches to quilting stitches. When you go to the LCD you can see how to cycle through all these stitches quickly for you to find the best choice.
The embroidery area is 4'' x 4'', and the machine has 5 fonts and 120 built-in frame patterns.
Editing and Connectivity
One of the cool things about this sewing machine is that it can connect your machine to your computer with a USB cable. Its updates will also always be available via their downloadable updates. All you have to do is just import your designs and let the machine do the rest. Once sent you will be able to see your aspired look of whatever you're designing on the LCD!
LCD Touchscreen
The touchscreen itself is pretty simple to use. You can learn it within a few practice runs. The screen allows you to easily navigate and access your stitches and designs, as well as seeing your edit functions. These include: minimize, enlarge, rotations, and mirror rotations.
Needle UP/Down Setting
You have to reposition the needle if you want it to go smoothly. To save you the trouble you can just do this with the push of a button now. It has an automatic feature which makes you and my life easier! The sewing machine also has a drop-in system, a needle threader, as well as a needle up/down setting.
Automatic Thread Cutter
Since the thread cutter is automatic it helps out the advanced needle threader and the bobbin winder system, it just makes everything more efficient and quick.
Sewing Speed
The machine has three paces available for you to use when stitching. This is great for beginners or kids who are looking to get into sewing. With this tool, you can take your time and develop your process before you move into a more expert level. It's also great when you are trying hard to produce more detailed work on your projects.
Warranty
To help protect your investment, the Brother LB6800PRW features a 25-year warranty! It ensures that the machine and any other additional parts will arrive at your site in functioning order.
While in the first year after your purchase, the company will repair or replace parts that you want. So, make sure not to throw away that receipt date!
However, just to be sure, go and check the warranty guidelines in case what I said is different from what they state.
Sample Customer Review…Bought this machine for the embroidery/monogramming feature but loved that it also had the sewing machine part too! The sewing machine part works great bobbin threaded threads itself, the needle threader works fabulously! The embroidery/monogramming part is awesome!! Designs within the machine work great the machine stops and tells you when to change the color thread if you need to, stops the machine when the upper or bobbin thread is messed up or needs more thread. Downloading the designs from the Internet from different sights to my machine had been so easy and efficient! So far nothing bad about it!!

Read More Reviews at Amazon.com
Brother LB6800PRW – Notable Pros and Cons
Notable Pros
Easy to Use
Since the machine has a wide variety of features within its LCD touchscreen, it's perfect for those who are just getting into sewing.
With its advanced needle threader, bobbin system, an automatic cutter, it brushes past all the confusions you may have when you're starting to get used to the machine.
It has a sewing mode called Project Runway which is designed to help you reach tough areas like collars, cuffs, and hems. Also, if you've never used an embroidery machine before, just know that it comes with a built-in tutorial to help teach you.
7 Point Feed Dogs
This feature helps you handle any fabric you use more efficiently and smoothly. It's usually only made for higher-priced machines, however, it's on here for such a modest price!
Nice Stitch Quality
The fact this machine is so mid-prices in its market and still has quality stitches shows you the care the people who manufactured this put into the machine.
Because of the 7 point feed dogs and bobbin system, it helps make sure that whenever you're using the machine that there are no jams or skipped stitches.
Lots of Designs
What you should be looking for is a machine that can give you great sewing and embroidery capability.
Since the Brother LB6800PRW has a two-in-one functionality, then both novices and more experienced sewers can look to be impressed by the simplicity of the use of this machine.
Quiet
Since it's pretty heavy, the machine is then sturdy and has a low vibration. Your neighbors, roommates, partner, etc. can thank you for thinking of them when you start using this machine, unlike other ones.
Good Price
Even though it looks like it costs a good amount, I want you to think about the added context as to why now based on the features I explained to you. This machine is a good value for what it's worth. It's high in quality, has a dual functionality with a great 25-year warranty.
Can Do More Than Embroidery
Lots of embroidery machines can only do embroidery things. However, this machine can do both general sewing and embroidery. With its wide variety of stitches, it shows you how much it can do for you.
Notable Cons
Not Very Portable
This machine is pretty heavy. It weighs around 36 points and will be a pain if you have to carry it around all night. Now, if you want, on Amazon there is a rolling carry case that you can use to place this machine on. However, other than that you will have to carry this machine around.
Foot Pedal Issue
When using the machine the foot pedal can come out to the side instead of to the back. Since the petal design is pretty light it makes it easier for you to accidentally move when using it. This is not great if you're trying to sew something that requires a lot of complicated tasks.
It Has a Small Embroidery Hoop
This machine is great for smaller fabrics like towels, however, if you're looking for something big then the hoop on this machine may not be enough. When you're going to start a project I would highly suggest estimating the size before using this.
Tips When Using the Brother LB6800PRW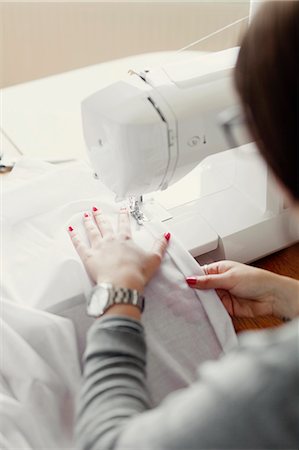 Like I said before, there are instructions that can help you understand easier on how to use the machine. However, to save you the time I want to add here my tips when you use the machine.
Instead of holding thread lightly like many say, instead don't hold it unless you want it to get bent in the process.
When you are about to use the pedal go ahead and place it on a small rug. If it starts to move too much then because of the rug it will allow for more traction.
If the polyester thread starts to make noise you should then think about switching it to a better quality thread.
When you use the embroidery design on the machine you should search all over the machine for programs and patterns that can turn whatever you searched on clip-art for example into a PES format.
Conclusion
Now that you have read about the Brother LB6800PRW, I hope you have a better understanding of the machine and its capabilities.
I highly suggest this model, as I believe it is fantastic for people getting into sewing or people who enjoy machines that are simple to use. The machine makes up for the sacrifices it has to have due to its size and functionality with its wide variety of embroidery patterns.
To me, this belongs in the high-quality stitching machine realm. If you are looking for a beast of a machine to help you with your sewing, try out the Brother LB6800PRW! You won't regret it!
Happy Sewing!
---
Related Articles
Featured Articles
Written by Claudio Hudtwalcker