Do you need help narrowing down the best Babylock sewing machines? You aren't the only one. Babylock makes tons of different machines. Which Babylock sewing machines really are the best? Here are a couple of the Babylock favorites!
Babylock is a community of sewing enthusiasts that have gotten together to create some of the best sewing machines on the market today. What makes these sewing machines so successful? Well, these machines were designed and created by sewists which means they include features that every sewist needs.
The Babylock sewing machines have proven themselves against other brands as the superior. You will not be disappointed in your machine, no matter which Babylock you choose.
Top 6 Best Babylock Sewing Machines
1. The Altair Babylock Sewing and Embroidery Machine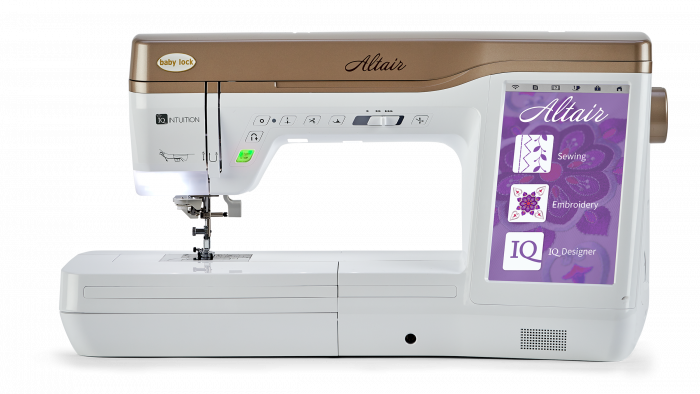 The first one on this list is the Altair sewing machine. This machine isn't just a beast when it comes to sewing, but it's embroidery skills are off the charts amazing.
This machine includes wireless capability, a big workspace for those who need it, and advanced technology. Thanks to the tireless work at the Babylock company, this machine includes something that you will rarely find somewhere else. You are able to capture a picture with your phone and wirelessly send the picture to the LCD sign on the machine. The screen will then display the picture for you making embroidering easier than ever. Also included in the wireless capability is the option to wirelessly transfer your personal designs from your computer straight to the sewing machine.
On top of its amazing modern technology, this machine includes almost 500 different embroidery designs, 200 of those are exclusive to the Babylock machines. The LCD screen is large enough for you to comfortably pick out a design. A real bonus with this machine is that it is able to free-motion sew. With just a touch of a button, the machine releases all tension on the fabric which gives the sewist complete control over the fabric and stitches.
This sewing and embroidery machine really has it all. If you are looking for a machine that can really make embroidering easy, no need to look any further. There's no question why this machine made it to the top of the best Babylock sewing machines.
Features
Sewing and embroidery machine
A computerized system for embroidery design choosing
Wireless transfer technology
200 exclusive embroidery designs you won't find anywhere else
A large workspace
Free-motion sewing
2. The Zest Babylock Sewing Machine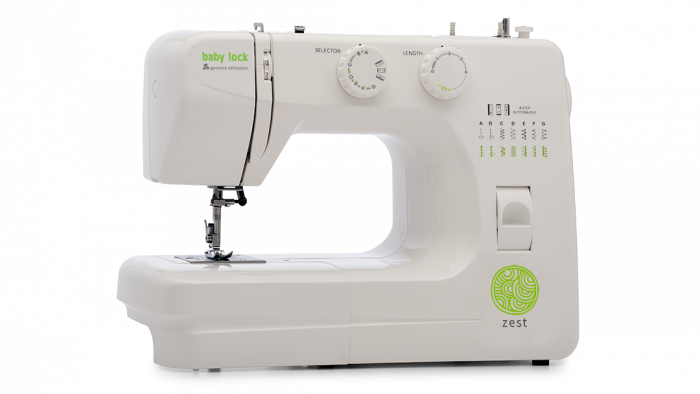 Zest is the next one on this best Babylock sewing machines list. This Babylock sewing machine is absolutely perfect for those sewists who are just starting out. Those beginners out there will love what this machine has to offer. First of all, the price is perfect for anyone's budget. This is one of the lowest-priced sewing machines on the market today. Some features of this machine include free-motion sewing, 15 different stitches, adjustable stitch length, a thread cutter, and accessory storage.
This Babylock sewing machine does not include a computerized system which makes it super easy to use for those who are not computer savvy. What makes this machine even better is how lightweight it is. Due to its lightweight, this machine is easily portable and you can take it almost anywhere with you. If you are looking for a machine built for beginners, that's easy to use, and a low price; you've found it.
Features
15 different Built-in stitches
A Front loading bobbin
Free-motion sewing
Adjustable stitch length
Easy-to-use thread cutter
Electronic foot control
Built-in storage area for accessories
3. The Unity Babylock Embroidery Machine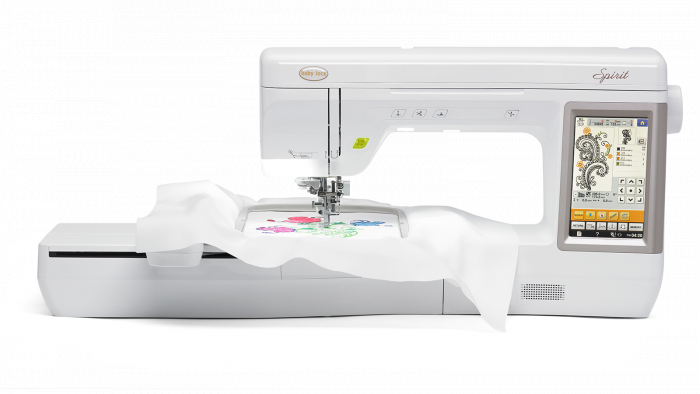 Next up on the list is the Babylock Unity Embroidery Machine. Due to its enormous library of sewing stitches and embroidery designs, this machine makes the list of one the best Babylock sewing machines out there. This sewing machine includes countless features that any sewist would be overjoyed to possess. This machine is perfect for the professional sewists out there. Beginners are welcome to try out this machine, however, it is a bit difficult to learn how to use so it is used more by professionals.
This machine includes 537 stitches and 266 different embroidery designs. With so many different options, you will have a hard time picking just one! Not only does the machine come with so many embroidery designs, but you can also upload your own personal designs to spice up your projects. You literally have an unlimited amount of designs and stitches you can use.
This machine also comes with an automatic threader which every sewist agrees should be on every sewing machine. The free-motion sewing also is another huge bonus included in the machine. With a touch of a button on the easy-to-use computerized system, the machine will release all tension on the fabric and give complete control over to the sewist. The sewist can then easily control the fabric and the speed of the stitches. Speaking of speed, this sewing machine definitely has it. It can sew up to 1,050 stitches per minute!
Any professional sewist would be lucky to have such a powerhouse of a machine. This sewing and embroidery machine will make it to the top of any Babylock sewing machine list out there.
Features
573 different stitches
LCD touchscreen
Twin needle settings
Monochrome programming
25-year warranty
1,050 per minute sewing speed
Countless features!
4. The Brilliant Babylock Sewing Machine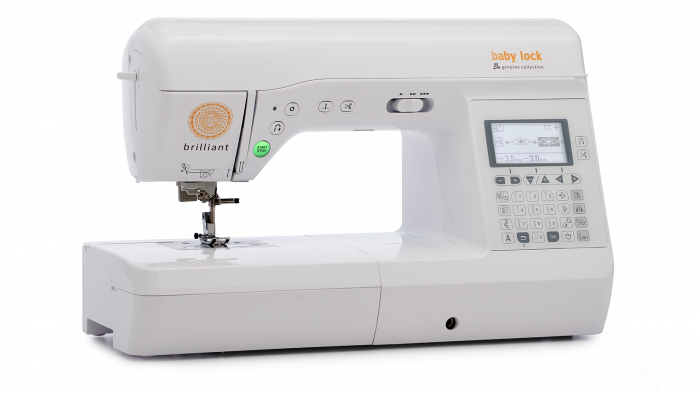 Another one of the best Babylock sewing machines list is the Brilliant sewing machine. This machine made the list because of how versatile it is. It can do more than just sew simple things. It can also quilt and alter clothing. This model is pretty advanced so usually, only professional sewists will purchase this model. However, beginner sewists are welcome to try it out as it can help you complete any project you have in mind.
This sewing machine is fast and heavy. It is able to power through any heavy fabric you throw at it. With a total of 190 different stitch patterns, you will always be able to find the perfect stitch for your project. The programmable stitch functions but it are easily possible for you to customize the stitches. You are able to change the width, length, and size of each stitch! The automatic needle threader and cutter make changing out the thread fast. You won't have to worry about the thread getting jammed in the machine.
The cost of the machine is a little pricey, however, the number of features included in the machine makes it very worth it.
Whichever project you have in mind, no matter how complicated, the Babylock Brilliant sewing machine will be able to handle it like a breeze. No doubt about it.
Features
Very versatile
Easy-to-use
190 different built-in stitches
Hands-free presser foot lift
Automatic needle threader
Programmable stitch functions
Up to 850 stitches per minute!
5. The Crescendo Babylock Quilting Machine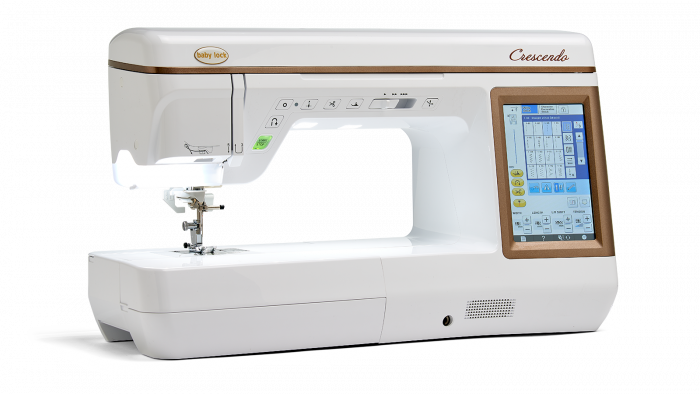 The Crescendo Babylock sewing machine is something that could not be left off this list. The Crescendo Machine is easily one of the best Babylock sewing machines out there. This sewing machine also doubles as a quilting machine for those looking to improve their quilting skills. The computerized touch screen includes a touch pen. This is something that other machines rarely come with; so this is something that sets this machine apart from others. The screen pen helps the sewist navigate the complicated system.
The screen pen can be used to easily customize and program your stitches. You can choose exactly how big the stitches are and the exact location you want them on the fabric. The lights around the quilting and sewing area are bright and make it very easy to see what you are doing. The attachable extension table really sets this machine apart from others of its brand. Many quilters look for machines that include an extension table because it gives them more control over the fabric.
The Babylock Brilliant is one of the few machines of its brand that include an attachable extension table with the machine. Just with that extra-large table, this machine is made for any quilter out there.
The automatic needle threader and cutter make changing out the spool easier than you can imagine. It will only take a minute of your time! A couple of other amazing features are the dual-feed system, twin needle settings, and programmable up and down needle settings. You do not want to miss out on this amazing quilting machine!
Features
LCD computerized touch screen with touch pen
573 different built-in stitches
Programmable stitch functions
Automatic needle threading and cutting
The sewing speed of 1,050 stitches per minute
An attachable extension table
6. The BL9 Babylock Sewing Machine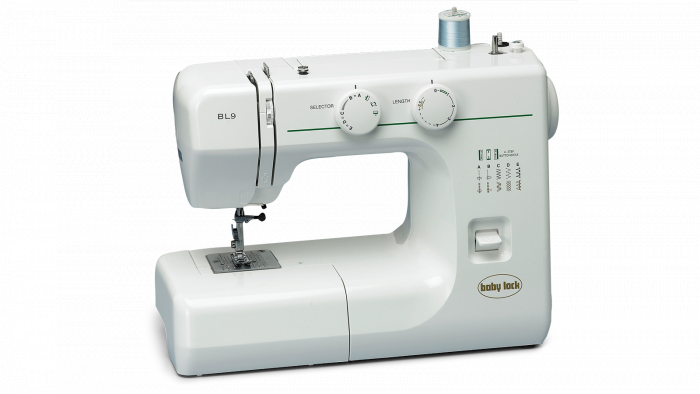 Last but not at all least is the Babylock BL9 Sewing Machine. This is the easiest machine to learn how to use which makes it the perfect machine for all the beginners out there. The cost is low so you won't go broke after trying out a new hobby. This machine is very lightweight. This is perfect for those who want a portable machine. Although the weight is perfect for a portable machine, it also means it doesn't do very well with quilting, especially with heavy fabrics.
Something that you usually don't find on beginner machines such as this one is the option to customize the stitches by adjusting the lengths. Babylock made sure to include that in this machine to pull it in front of other brands. The free arm is also very useful for when you need help reaching those unreachable spots. Lastly, the built-in storage compartment for extra accessories will help you stay organized during those messy projects.
If you are a beginner sewist looking for a machine that is easy to use and cheap, no need to look any further.
Features
Perfect for beginners
Built-in storage for accessories
Easily portable due to its lightweight
Front-loading bobbin
Conclusion
Hopefully, by reading this article you have a better idea of what the best Babylock sewing machines are! Our goal was for you guys to gain what we believe is an adequate amount of knowledge on each product's features, pros & cons, and etc. to make your own decision. Hope you found the best Babylock sewing machine for you!
Happy Sewing!